Solar Panel Installation: How to Install Solar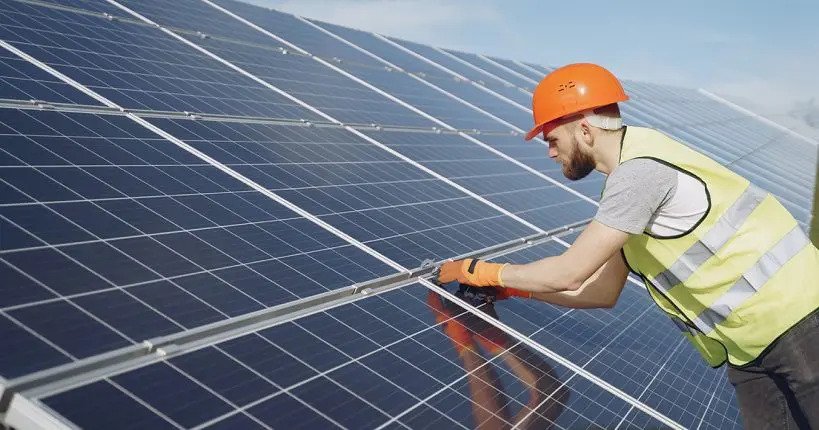 Most people are interested in getting solar panels but don't know how to install them. It does seem pretty daunting and unsurprisingly, the process goes beyond watching a few videos on YouTube and installing them by yourself.
Even though the DIY approach is exciting and all, it can lead to serious trouble with solar installation. If you don't have experience in electrical contracting, you shouldn't do it by yourself. You may end up damaging the panels or even worse, hurting yourself. It is better to hire a solar company to install solar panels for you.
But when you contact a solar company, it does not just end here. There are some steps you must take.
How to Install Solar: Steps
In the face of rising electricity costs and climate change, many people have opted for solar panels. So, if you have ordered solar panels, you have made the right choice but does it end here? Hardly.
Solar panel installation requires a deep comprehension of solar engineering, design, and technology. Therefore, an average person must avoid a DIY approach to solar installation and let professional installers handle it. Most DIY installations may seem affordable, but they can leave design gaps that result in serious problems later on. You can save more money than them by having a properly designed and installed PV system.
Another thing to note is solar panel installation requires more than a day. Solar installation involves a few critical steps to ensure an efficient and reliable solar energy system. These are some steps involved in solar panel installation:
Before anything else, you need to select a suitable solar installation company for your solar project. Once you have signed a contract, the solar company will likely dispatch an engineer to your property to perform a thorough evaluation of your electrical system. The engineer will ensure your electrical system is compatible with your preferred solar system.
Now, it is possible for the engineer to be either an independent contractor or a worker of the solar panel company. If your property has an outdated and old electrical system, the engineer may recommend having it replaced or upgraded. Typically, it indicates your required solar panel system will need more amperes than what can be accommodated by your current electrical system.
The engineer may also check your roof other than evaluating your electrical system. He will likely perform an inspection to identify if it can support solar panels and their total weight and if it is structurally sound. The engineer will also convey if you require a special mounting system for your roof or not.
Remember, your solar panel system will only perform well if it is designed and installed properly. Otherwise, you may not get the desired energy outputs. Therefore, hiring a reliable solar installation company is a vital step.
Many people are unaware that they require a few permits before they can have their solar panels installed. You will require the right documentation and permits to make your solar system legal and meets the necessary local zoning and safety requirements. Otherwise, it will be a massive headache to deal with the problems later on if you overlook these permits.
Although dealing with this step may appear daunting, you can still rest assured that your solar company will handle the majority of the paperwork. It is possible you may not be required to do more than just give your signatures here and there. Still, it is important to understand what is going on behind the curtain. Your solar install will likely file for:
An application for federal or state incentive campaigns that reduce the costs of solar panel systems
An interconnected agreement or contract with your local utility. It means permission will be sought from your local utility to have solar panels installed.
Building and electrical permits for the installation
This paper may seem like a hassle, it can help you secure financial assistance, tax credits, and rebates to offset high installation costs. The process itself may be time-consuming because your solar installer will have to first submit these applications and requests before the governmental bodies can process them. It may take a week or two but we cannot say for sure how long it can take.
Anyway, you can always follow up and obtain updates every now and then to make sure your requests are moving forward smoothly. Therefore, it is better to take a calm yet steady approach. Solar companies often get busy in summer. So, it may be better to have your solar system installed before hot days arrive and everyone is contacting solar companies.
Purchase the Required Equipment and Tools
When you have acquired all the required paperwork and permits, your local company will be ready to perform solar panel installation and order your equipment. By this point, you may already be aware of the solar batteries and solar panels you require for your property.
Usually, these decisions are performed in a solar proposal and they are involved in your contract. It is better to understand how different solar panels work and which solar batteries can be installed. You may want to research which batteries and inverters will go along with your solar panel installation.
Based on your preferred solar panel system, your solar panel installer will help you choose the right equipment. They will help you achieve your desired solar energy goals and if you need suggestions, they will offer you concrete ideas. When you have ordered the required solar equipment, your name will be enlisted in the queue of the installer. It means your solar installation will be scheduled for the installer to fix and assembled your solar panels the moment your solar equipment arrives.
Have the Solar System Installed
Now, you can be excited because the big day is finally here. As per the schedule, your solar install will arrive at your property and will begin getting your roof ready. Your installer will double-check that all shingles and titles are attached securely. After that, your solar installer will place the writing that is required for connecting your electrical system to the installed solar system.
Your solar installer will focus on placing the racking after installing the wires. Racking is used to hold and keep your solar panels in the required position. After the panels have been placed into the racks, your installer will connect the inverter to the panels. Depending on your system, you may have several microinverters connected as well.
Some people prefer using a battery bank and if you are one of them, your installer will also set it up. In case you are interested in identifying the right solar battery, you can consult your installer or you can search it yourself. Just go for a battery that can really deliver your required power output while sustaining its life for more than a decade.
Many homeowners wonder about the time it takes to perform solar panel installation. Once you have the required permits, it will only require one to three days. In fact, if your solar system is planned and designed properly, this step may be the simplest and most straightforward in the whole process.
Approve and Connect your System
When your solar panel system is installed, your installer will turn it on and start it for the first time. Prior to it, however, you may require a representative of the municipal government to inspect and approve your system. After approval, you will get a PTO or permission to operate.
It is basically a safety precaution and requires a third person to come and check the electrical work and wiring of your solar panel system. In addition, you will require your local utility company's representative to interconnect the system. It essentially means connecting the solar system to the electrical grid.
Even though it may seem unnecessary, it helps you draw electricity whenever you require it and you can even send your surplus energy back to the grid. It means you can get beneficial credits from the utility through its net metering program.
Mistakes to Avoid
Most people make some common yet drastic mistakes during solar installation. You need to avoid these mistakes to ensure the proper and smooth installation of your solar panel system.
Overlooking Available Space
Remember, you cannot install your desired solar system without sufficient space. Anyone can get caught up in upgrading the house but you need to spend some time thinking about where the solar panel installation should be performed.
Have a look at your house and select the ideal space for them. For example, you may have enough space on the roof. In case you don't have enough space on the roof, you can try your yard for it. It is still a better approach than installing solar panels on a small roof that may fall down.
Getting Energy Needs Wrong
How do you decide which solar panel system is suitable for you? Obviously, you need to first estimate your energy needs before you can decide which solar panel system can meet them. If it is your first time installing solar panels, you should seek the assistance of a professional. For starters, you can contact your local solar company to help you. It can help you estimate your energy needs correctly and even determine which solar system can better meet them.
Otherwise, your investment me appear futile and you might be required to spend even more money on it. Therefore, it is better to take a proactive approach and estimate your needs correctly.
As we have explained it above, the DIY approach is often unsuitable for solar panel installations. It may work for smaller and less complicated projects. However, solar panels are not only costly but also complex. Therefore, if you don't have a deep understanding of and experience in the field, it is better to let an expert solar installer do it for you.
Installing solar panels requires more than just watching some YouTube videos. It needs both an understanding of the design and even solar equipment. Sometimes, even a single mistake can result in serious losses.
Selecting the Wrong Solar System
One solar solution does not fit all. All households have different energy needs and structures. Therefore, the sizes and types of solar panel systems vary among houses. Instead of just getting the same solar panel system as your neighbor, select a system that suits your needs.
Think about your energy needs, the capacity of your solar panel system, the storage capacity of your batteries and their output, and even inverters. You can let a professional solar installer suggest you a suitable system that you can install.
Installing Solar Panels in the Wrong Direction
Even though it may appear uncommon, it does happen. When you are thinking about how and where to install your solar panels, you also need to think about the direction for an effective solar panel installation. For instance, you need your solar panels to face the sun most of the time. Otherwise, solar panels may not produce sufficient energy.
Consult a reliable solar panel company and work with the installer to identify which direction or position is suited best for your solar panel system. It is better to avoid putting your solar panels in the wrong direction.
So, what do we take from it? Unsurprisingly, solar panel installation is a complex process and it is better to collaborate with a reliable solar company instead of doing it yourself. Otherwise, it can result in some severe problems and losses. Work with an experienced installer and get the required permits and paperwork before you have your solar panel system installed. Make sure that all the documentation is completed prior to the installation. After all, you don't want to face problems later on. Do your research and get to know which solar system will work the best for you and have it installed. When a solar panel system is installed properly, it does you wonders.