Most efficient solar panels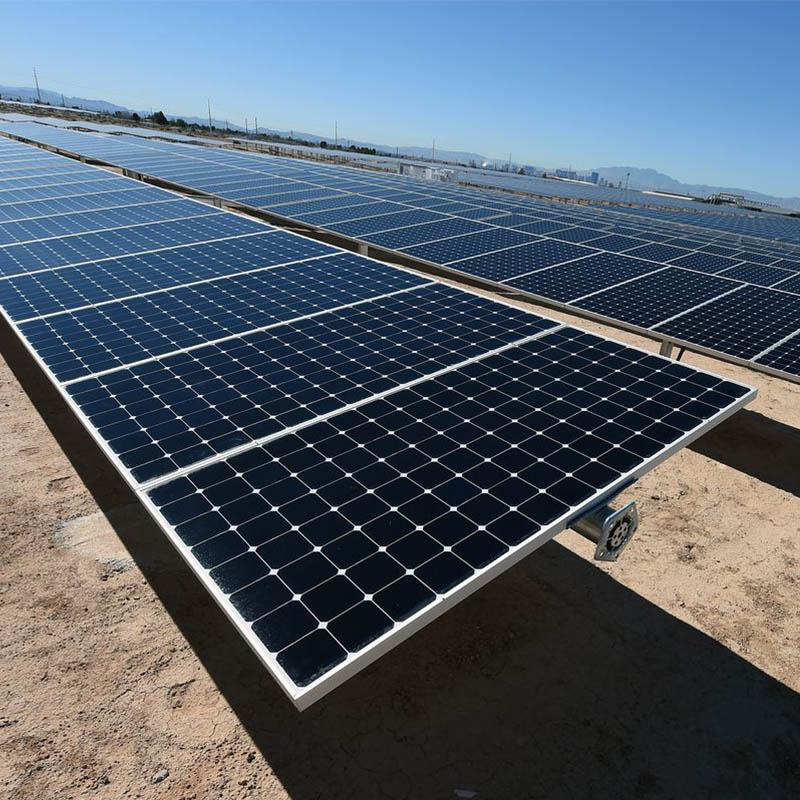 The most efficient solar panels are determined by the amount of solar energy they receive to generate electricity. Currently, technology has had a positive impact on this energy system, increasing the conversion level of a panel by 15 to 20 percent. In other words, the increase in nominal power ranges from 250 W to 400 W.
To find the best solar panels on the market, it is necessary to know the aspects that determine their efficiency. What you should be looking for is the best use of the cell and saving money. Next, we will talk about high efficiency solar panels and how to choose the right one.

What is solar panel efficiency?
The efficiency of solar panels is a value that determines the ability of the equipment to convert solar radiation into electricity. That is, the more efficient a panel is in its conversion process, the more electrical energy it will emit.
For example, the most efficient solar panels, rated at up to 20%, are able to take the sun's solar irradiance or brightness and convert that same percentage into electricity. In addition, the electricity output of a solar cell is also determined by its composition, electrical configuration, external components, panel location, among others.
Other factors that determine a more efficient solar panel are: external temperature, temperature level and solar irradiation; the type of cell used and the connection systems. Although it may seem strange, the color of the back sheet can affect the efficiency of a panel; for example, if it is black, in addition to being aesthetic, it absorbs more heat, causing the cell to increase its temperature and resistance, but slightly reducing its efficiency.

Cell efficiency
Another term to understand is cell efficiency or cell efficiency. It is determined by its structure and the type of substrate used. Generally, it is silicon (P or N type). Also, its busbar configuration, the type of junction and its chemical passivation.
To calculate its efficiency level, it is necessary to calculate the fill factor (FF). That is, the maximum possible conversion that a photovoltaic cell can achieve.
The most important factor in determining which solar panels are the most efficient is undoubtedly their design. Currently, the most expensive but most efficient model is the IBC cell. They range between 20 and 22% efficiency, thanks to the N-type silicon substrate of the highest purity. In addition, there are no losses due to the shading of the busbars.
Another model of the best solar panels being developed is the Perovskite tandem. They are the most efficient and are expected to be available in the market by 2023.

Importance of having more efficient solar panels
Efficiency is a term that denotes not only quality, but also significant savings in electricity bills. In addition, it becomes a factor of change and support for the planet to make it more friendly and durable.
Some people do not take the time to buy new solar panels and make sure they are efficient. The importance lies, as a main criterion, in their conversion. However, this term is associated with some elements such as quality, reliability, good manufacturer and warranties.
On the other hand, during the manufacturing of more efficient solar panels, there is a significant reduction of environmental impact. These can be reused to produce new panels and create a whole ecological life cycle.
The goal here is to create a totally clean, off-grid power grid. Be independent and minimize the load. In addition, you do not participate in the volatile price changes of energy worldwide.

Main types of the most efficient solar panels
If you are looking for the best solar panels on the market, you need to know about the three different types. They are the most commonly used in residential and commercial spaces. Below is an explanation of their usefulness:

Monocrystalline
It is a more efficient solar panel, used in spaces that require more electrical energy to illuminate. Places such as shopping malls, buildings and residential areas. However, the size of these cells varies, so the model can be used in smaller properties.
One of its main advantages is the type of silicon. With a really high level of purity. It offers an efficiency between 15% and 22%. They do not need a lot of space to be located. In addition, the lifetime of monocrystalline is at least 25 years.
The downside of monocrystalline is their high price in the market. On the other hand, it is not recommended to install them in spaces where temperatures are very low. If you are interested in any of these models, you can find the best solar panels such as SunPower, LG and Panasonic.
Polycrystalline
The manufacturing of the polycrystalline solar panel system is from multiple pure silicon crystals that are melted together. However, this method does not make them as efficient compared to monocrystalline. Their use is mainly for small-scale stations, with a power between 5 W and 250 W.
The advantage of this model is that they are environmentally friendly. Their manufacturing process is very simple, making them very economical and durable. The downside is their efficiency level, which ranges between 13 and 17 percent. The silicon is of low purity and takes up a lot of space to produce the same amount of energy as monocrystalline ones.

Thin film
They are light and easy to move. The photovoltaic cell is thin because it does not contain silicon. This makes them the least efficient on the market. They are used in spaces that do not require much illumination.
Among its advantages is its price, which is the lowest on the market. It is perfect for the transportation sector and can be installed on the roof of buses or refrigeration systems. On the other hand, they are short-lived, very fragile and delicate.

Efficiency factors of a solar panel
We have mentioned the factors that determine when solar panels are most efficient. Next, we will briefly explain each of these elements. This way, you will be able to have in mind, in more detail, what to consider when buying and installing them:

External temperature
The maximum temperature for a panel to operate efficiently is between 59 °F and 95 °F. The optimum temperature is 77°F. Beyond these values, the panel may fail and be ineffective in its generation of electricity.

Back sheet color
The panels have a foil on the back side. It serves as a protective element from any external agent. Colors such as black are not recommended, as they only reduce the efficiency of the equipment. Intense colors such as dark blue or green are ideal.
Climate
If the weather is not good, the solar panel may be affected. If something interferes between the cell and the sun's rays, the amount of energy will be reduced. For example, if there is snow, rain clouds, hurricane winds, hail or any other condition, it will certainly affect the efficiency.
In case of snow, the ideal is to remove the remains of this element after the weather stabilizes. Rain does not affect, but if rain clouds hinder the sun's rays. Regarding hail, it can affect the structure of the panel.
The inverter
This device has the function of converting direct current into alternating current. This type of conversion is necessary to run household appliances. In most inverters, the efficiency level is between 97 and 99 percent.
Thermal cycling
The struggle of temperatures between hot and cold causes the solar panel components to constantly expand and contract. This can reduce its energy efficiency.
Solar panel location
When installing new solar panels it is mandatory to locate a good space. This should be free of any structural interruptions such as trees, walls, walls or any other artifacts. Ideally, the sun's rays should hit the cells directly.
Lack of maintenance
In order for the most efficient solar panels to operate without any problems, they need to be maintained. It is not as rigorous, but it is necessary. Agents such as dust, dirt and grime adhere to the cells, minimizing their absorption capacity. In addition, they do not fully impact the cells, resulting in low conversion efficiency.
Before buying new solar panels you should consider these aspects. Each one will help you get the most out of your equipment. In addition, it will allow you to release the total efficiency of the cells, generating better lighting in your spaces.

Manufacturing the best solar panels
The most efficient solar panel manufacturers produce different types of range. Considering the level of silicon or if they include PERC (Passivated Emitter Rear Cell). Also, whether they contain new technologies or multiple busbars.
When a panel exceeds 21% conversion, they are considered efficient. However, these are the most expensive on the market as they are N-type. They are also more durable and better than type P. The price-quality ratio is certainly worth it.
The best solar panels, of about 400 W or more, cost about US$350. The 370 W ones cost about 60% less. The calculation reveals that about 0.50 US cents and 0.90 US cents per W.
Brands such as Panasonic, SunPower and REC make more efficient solar panels, with higher performance, but more expensive. However, there are guarantees in a product made of quality and durability.
To these amounts must be added the cost of installation. On average, reliable companies charge between 15,000 and 20,000 US dollars. The most economical to install are the polycrystalline ones, although it all depends on the type of panel and the quantity required.
This investment is totally profitable as time goes by. If we consider that the installation is done only once, and the price for the panel is also paid once; the savings will be significant in energy and billing. If you live in an area where the climate is stable, you have the solar panel perfectly located, they will make better use of resources.

How much do the most efficient solar panels cost?
If you want to have the best solar panels at home or in your business, you should keep in mind their real cost. According to the Center for Sustainable Energy (CSE) the cost of installing panels ranges from $3 to $5 per watt. However, everything can vary depending on certain aspects, such as:
Electricity demand. This refers to the amount of monthly energy used by the site. This determines the amount of solar panels to be installed. Depending on that, the cost increases or decreases. Generally, if a household uses a lot of gas equipment, the electric consumption is lower, therefore, less panels are required.
Type of solar panel to install. In the previous points we talked about the different types. Monocrystalline, polycrystalline and thin film. If you choose the monocrystalline, these represent a higher cost, but their efficiency will also be higher. If you have enough space, this is the best option.
Size of the solar panel. If the panel to be installed is very large, it requires a greater investment of time, resources and man-hours. However, you should keep in mind that the investment will be a one-time investment and in the future it represents a greater savings in the billing.
Installers. Each solar panel installation company has its own tariff. The most recognized ones tend to ask for more money, while local companies are more moderate. It is important to always look for a quality company, with warranty and experts in the installation process. This will save you more money than you think.
ITC Value. This is a federal solar tax credit that established a 30% rate from 2022 through 2032. The collection rate will be decreasing starting in 2033 to 26%. However, this extra incentive varies by state.
Payment methods. When installing solar panel systems, you can choose between different payment methods. Either cash or credit, facilitating the disbursement of the money. Although the best option is to pay for the entire installation at once, because it reduces additional expenses and gives you access to tax incentives. Also, there are the famous solar loans that benefit and allow you to opt for these tax incentives.
Does the size of the panel matter for its efficiency?
Before investing in new solar panels, you should check the size. Both the space available for installation and the panel itself. This way you can optimize resources and money. Below, we explain how to calculate these values:
The calculation is obtained by dividing the nominal power by the total area of the solar panel. That is, if the panel is very large it does not mean that the efficiency is higher. In the case of panels with very large cells, their surface area is equivalent to an increase in efficiency in general terms.
If you buy more efficient solar panels for the residential sector, standard 60-cell models measuring 6 inches are used. In the commercial sector, larger 72-cell models are required. In 2020 an interesting solution towards larger panels was born. Larger solar panels were built on new cells that increased efficiency and power output. They were able to reach about 600 W.

What are the most efficient solar panels on the market?
There are different brands and manufacturers of the most efficient solar panels. Each one brings, from their background, reputation and quality, the best solar panels on the market. However, the prices among them may vary. Here are the most outstanding ones:
Q Cells
It is an international company, with headquarters mainly in South Korea and Germany. Its main product is the manufacture of photovoltaic cells and modules. It also offers clean energy solutions, one of them being the sun.
They cover the residential, commercial and industrial sectors. They have benefited hundreds of communities with their technological but environmentally friendly projects. They are the most economical in the market. Their best product is the 400 W Q.Tron-G1+ with 22.3% efficiency.
Silfab
Silfab is an American company leader in this market. They offer the best warranty among their competitors. In addition, they offer superior quality in power and efficiency. They have used advanced robotics to develop their products for exclusive use in the United States.
It has a Prime line for the residential sector, of high quality and excellent performance. They are aesthetic, useful for any rooftop. Their best product is Elite SIL-380-BK, type P IBC of 380 W and an efficiency of 21.4%.
Canadian Solar
It is a Canadian company dedicated to the manufacture of photovoltaic solar modules. It also implements large-scale solar projects in different cities. The company's objective is to promote sustainable development on the planet. Through ecological and clean practices. They have presence in Latin American countries such as Argentina, Brazil and Mexico. It is considered the DIY brand of all.
Panasonic
It is a traditional brand, known for its telecommunications products. Its production line of high-efficiency solar panels has managed to penetrate the market. With its EverVolt model of 410 W, type N with an efficiency of 22.2%. It offers the best solar panels for hot climates.
REC Group
One of the most efficient solar panel brands in the market. Up to 22.3% thanks to its model Alpha Pure R of 430 W. They are present in different parts of the world such as Singapore, Australia, Japan, India and the United States.
SunPower Maxeon
The American company that manufactures the most efficient solar panels on the market. With up to 22.8% efficiency with its 440 W Maxeon 6 model. The brand invites you to have greater control of energy consumption thanks to its products. Where you save on your monthly billing. In addition, it offers energy storage service for the home.
Longi
Of Chinese origin; among the brands and companies, this is the one that offers the best solar panels at a medium level. It has a 385 W model called Hi-MO 4m with 21.1% efficiency. It offers products in solar modules and photovoltaic cells that seek to help the planet to have a cleaner consumption. They are reliable, of good quality and at an affordable price.
Hyundai
The well-known South Korean automobile brand also offers a line of solar panels. Its HiE-S400UF series model offers a maximum power of 400 W and a conversion efficiency of 21.3%.
Risen Energy
Risen Energy is an Australian company that has been known for promoting energy innovation with solar modules. Its solutions are sustainable and integral to the world. It has reduced its carbon emission to the environment and has helped communities to be part of this new way of living. It has a 410 W model called Titan S with an efficiency level of 21.3%.
Astronergy
It is a consortium that brings together several industries in the solar energy sector. They are led by Chint Group of Chinese origin. It specializes in equipment for companies and industries. They have also participated in solar park projects. They have a model that generates a power of 380 W and an efficiency of 20.9%. It is known as Astro 4 Semi and is of type P PERC.

Final Recommendations
The best solar panels on the market are not closely linked to their size. On the contrary, their quality, manufacturer and climatic conditions determine their effectiveness. Before buying any of these equipment, it is best to identify the type of panel to be used. Considering the dimensions of your roof or location.
On the other hand, comes into play both the budget of high efficiency solar panels and their installation, always remember to check how much consumption in your home to determine the number of modules to install. A good location, without structural obstructions and a good interconnection system will make a difference.
Check well which supplier will be supplying the new solar panels. We have recommended many high quality and highly reliable brands. To save yourself some money, don't look for inexperienced ones. It is better to make the investment and keep in mind that it will be the only one you will make for many years to come.